The two main factors in the real estate market continue to be low inventory and mortgage rates.
Regarding the low inventory, refer to the chart to the right.   This chart displays the active inventory over t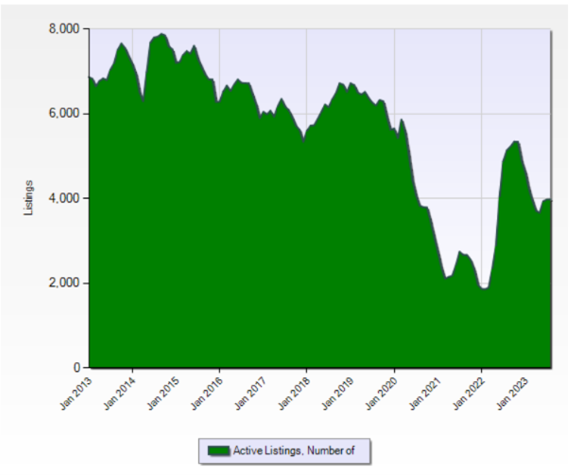 he past 10 years for all of Hillsborough County.  You will easily see the drop during the time of the COVID outbreak.  However, even at present we are down about half of where we were in 2014/2015.
It stands to reason that if there are fewer homes to sell then there will be fewer sells.
We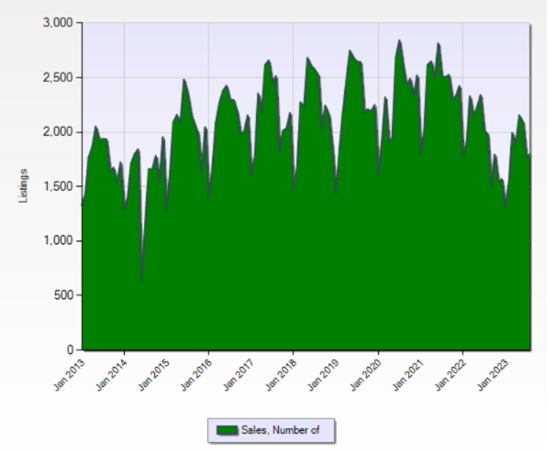 are seeing some of that.  The chart to the left shows the number of homes sales over the past ten years.    You can see the annual cycle as sales drop during the holiday season.  You can also see that the high sales in 2022/2023 are lower than previous years, down about 20% from 2021.
There is still demand for homes in Hillsborough County.  Hillsborough County, including the three cities of  Tampa, Temple Terrace and Plant City, has a population of around 4.5 million.  The area is growing at 1.2% per year, meaning close to 50,000 people move to this area each year.  This is both good an bad.  The growth in population means we have more employees, so more office space is needed.  More shops and restaurants are needed.  Also, more livings space is required, either as apartments, condos, townhomes or single family homes.
If we remember the law of supply and demand, the lower the supply and the higher the demand, it is
g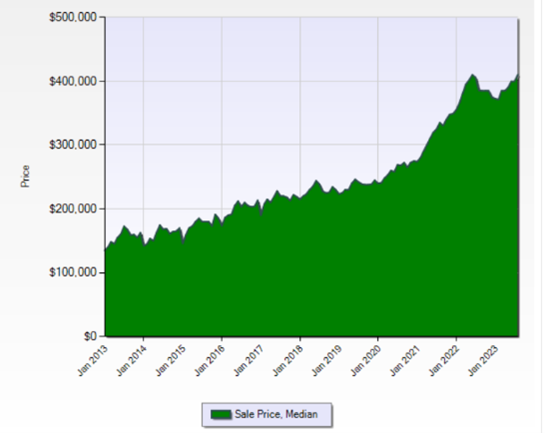 oing to push the price of goods higher.  In our case, the good are homes.  The chart to the right shows the median value of homes in Hillsborough County over the ten year period.
The increased value of homes and the higher borrowing rate for mortgage loans have put many buyers on the sidelines.  Just with the rise of mortgage rates buyers have lost over $200,000 of buying power.
Remember the phrase, marry the house but date the mortgage.  If there is a house you really like, purchase it and you can refinance in the future when mortgage rates go down.